Written By: Amy Zheng
Is it too late to say "Happy New Year"? In the U.S and other countries that follow the Gregorian calendar, this may be the case. However, in countries like China where they follow a lunar calendar, it is definitely not. This year, the Lunar New Year is celebrated on Sunday, January 22.
The idea of this celebration is to put the past behind you and welcome the new year with an open mind. This means letting go and forgiving yourself and others to start this new chapter in your life. In fact, it is traditional to sweep away the past by cleaning every inch of your home before the new year starts. 
Now, how is it celebrated? Similar to some holidays in the U.S., it is the time of year where families gather together. In China, families gather up and share a meal on new year's eve.  Kids are definitely happy as they are let out of school for a month-long break, meaning no piles of homework to worry about. This is the only break they get in a whole school year. Likewise, parents and adults are off from work so they could spend time with their families and relatives. So the adults and kids are all happy during this time of the year! It is a time of complete celebration. 
Everywhere you look you'll see red-colored decorations with words of good wishes, luck, and prosperity. You're bound to see the word in the picture at least once. This word means luck, and it is very common to see it in decorations. While fireworks and firecrackers are also seen lighting up on the streets.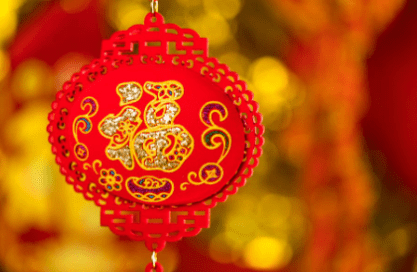 There is also the tradition of the red envelope called "红包" in Chinese. These red envelopes that are embroidered in gold have money in them. Parents and relatives give these to young children, usually up to a hundred dollars per envelope. 
Those are some of the more common things people will do for Lunar New Year. As you can see, this is a holiday that is very big in China. This was only an introduction of what it is like during this time of the year. You can only see what it is really like when you immerse yourself in the experience. Remember, it's still not too late to say "happy new year" so you can keep annoying your families and friends if your heart so desires!